« Back
Grape
Lemberger, Trollinger, Regent, Schwarzriesling
2019 Roterfaden & Rosswag Co-op "Terraces" Red
27
Hannes was born here in Rosswag. His family has a farm; they've tended vines, had cereal fields and raised cattle. Hannes, though, liked the vines. He studied in Geisenheim and there met Olympia, a Greek girl who had come to Germany to study viticulture and winemaking.
They became a thing and then proceeded to travel the world, looking for the perfect place to start a small winery. A place where they both could work in the vineyards, work together in the cellars, spend time in their own garden. The human-scaled dream I believe we should all focus on.
They traveled the world; Olympia worked in Burgenland, Napa, Naousa and Santorini. Hannes worked in Carnuntum, Mallorca, South Africa and Sonoma. And all this globe trotting helped them realize that they had everything right in front of them, in the dramatic, terraced, old-vine vineyards of Rosswag.
They started Roterfaden in 2014, with half a hectare of Lemberger from a parcel planted by Hannes' grandfather. They have now grown to about four hectares and farm a little bit of Pinot Noir and Riesling along with the Lemberger.
Old vines and, well, freedom – that's what they have here. There really isn't any preconceived notion of what wine from Rosswag, from this northerly region, should be. This means Hannes and Olympia are free to work exactly as they want to work.
And how do they work? Quietly, thoroughly, in a manner that looks so fluid and natural that you almost don't notice how considered it all is; how every step has been thought out and executed in the perfect manner. Yes, they are working organic; they incorporate many tenants of biodynamics, making their own teas and extracts. Everything is done by hand; the vineyards are beautiful, stunning even. I don't know how else to describe it. The cellar is minimalistic, scarcely larger than your average mechanics garage (though their cellar is a converted barn from Hannes' family's farm) – a few steel tanks, but mostly wooden barrels of various sizes lined up. Fermentations are all natural; the wines are bottled unfined and unfiltered with lower levels of sulfur.
-Vom Boden
An amphitheater of terraced vineyards, well over 1,000 years old; 23.61 miles of stone walls built by hand, covering a surface of nearly 15 acres.
This place in southern Germany has been overlooked, a miracle taken for granted because it's existed so long.
These vineyards are also an official nature preserve. Weingut Roterfaden and the local co-op of the village have come together to work this ancient landscape, to make, naturally, a wine to quench the soul and to preserve this place.
-From the producer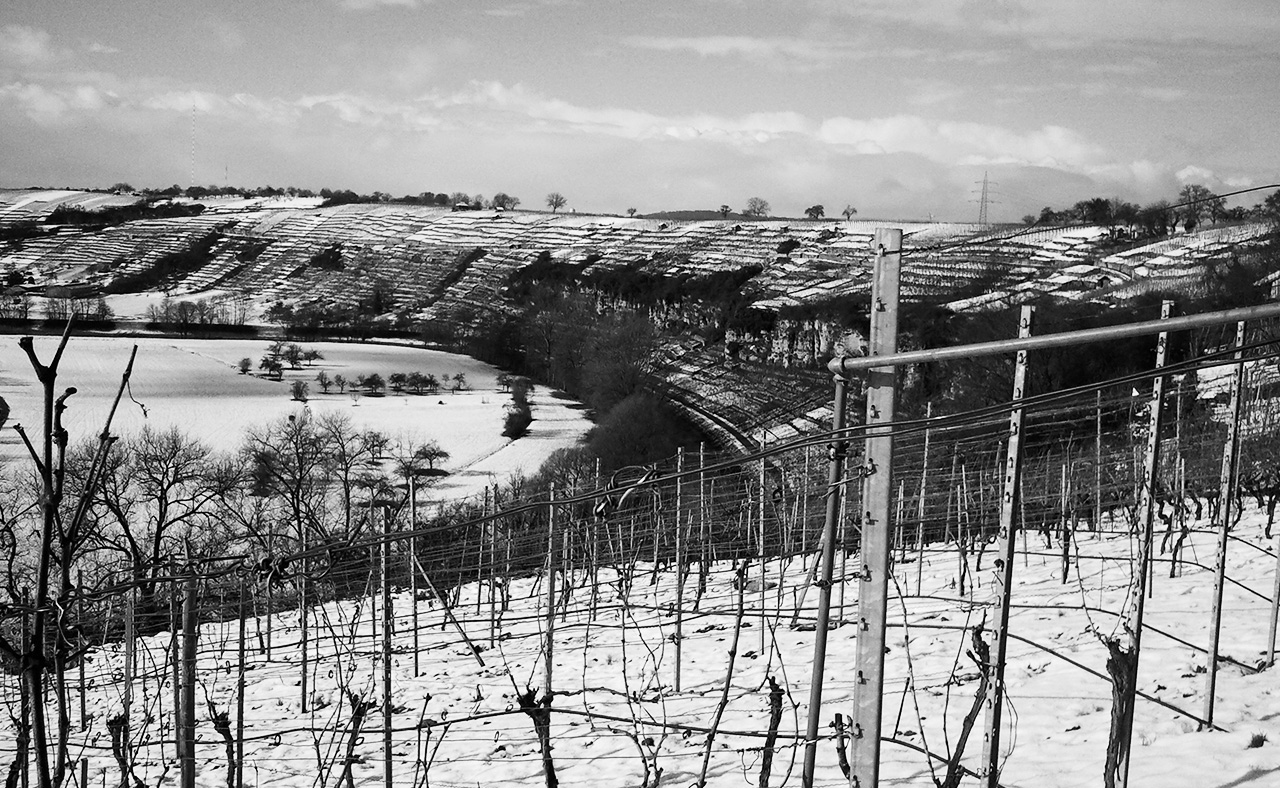 Purchase Wine