« Back
Dila-O Rkatsiteli-Mtsvane
34
Temur Dakishvili is a young Georgian winemaker who grew up in the family of the prominent Georgian winemaker Gogi Dakishvili. Temur's youth and energy coupled with Gogi's experience and wisdom create a unique partnership, one that both honors the centuries old Dakishvili family winemaking tradition, yet makes it new again each year. Through out history the Dakishvili's have been capturing the eternity of the sun year by year and their partnership at Orgo continues to enrich and elevate this tradition.
Orgo collects grapes in several villages of Kakheti. Their Saperavi, Mtsvane and Rkatsiteli grapes are harvested from the Kurdgelauri and Tsinandali villages in the Telavi district, on the right bank of the Alazani River.  This area has brown forest soils and carbonaceous hummus. The area has a drier climate, with cool nights and hot days during the pre-harvest season.
All the vineyards are 50-80 years old, with lower yield – 1.5 kg of grapes per vine tree. Sourcing from older vines is a rare and difficult project in Georgia since during Soviet times most older vines were ripped up and replaced so as to increase production. The low yield of these older vines creates more concentrated wines, and an absolutely unique spectrum of taste.
This is a 50%-50% blend of Rkatsiteli and Mtsvane grapes fermented and made in qvevri (large clay jars buried under the ground). This is an Amber or "Orange" wine style, but made in a lighter style with only 1 month of skin contact. It is a perfect introduction to the style.
-Georgian Wine House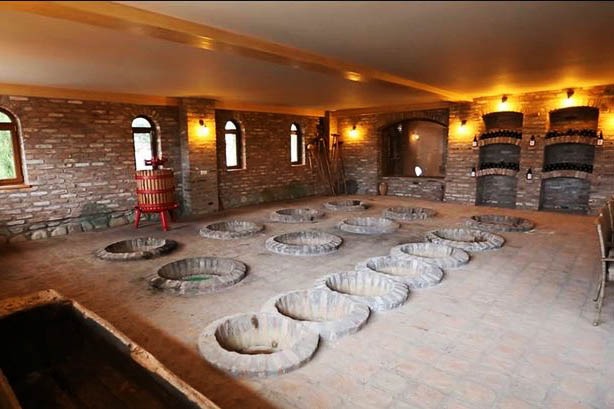 Purchase Wine