« Back
Soil
Buntsandstein/Alluvial
Handwerk Spätburgunder Trocken
34
Weingut Jürgen Leiner is located in Ilbesheim in the southern Pfalz, at the edge of the Pfalzerwald (Pfalz forest) and about thirty minutes' drive north of the Alsatian border. They own 16.5 hectares and produce about 120,000 bottles of Riesling, Pinot Noir, and a few other varieties. They are Demeter certified biodynamic and members of Slow Food.
The wines are "natural" but also perfectly clean and pure. Every label has a different insect from the vineyards on the label, a celebration of the life found among the vines. The soils are a complicated geology, generally loess and loam mixed with limestone, but there is a distinct terroir of colored sandstone (bundsandstein) and alluvial mix on the Pinot site and another special soil in the Riesling vineyards with an awesome German name: landschneckenkalk, or literally "land snail chalk." Again, with the bugs. The Rieslings we are working with are vinified in steel, and the Pinot is aged 9 months in large fuder. The winery ferments with natural yeasts, and experiments with longer lees and skin contact. I have rarely had Pfalzer Rieslings with such dynamic energy and lip-smacking fruit as the Leiners.
The Leiner Pinot Noir "Handwerk" is grown biodynamically in a mix of buntsandstein (colored sandstone) and alluvial soils on gentle slopes protected from inclement weather by the nearby Pfalzerwald (Pfalz forest). Harvested at low yields of 60hl/ha, fermented naturally and aged 9 months in neutral oak fuders. Pale flashing ruby in color, effusively aromatic, juicy in the mouth, full of cran and cherry fruit that tastes like it's seen plenty of sunshine, this is a vital, breathing Pinot expression unique to the Pfalz. It's honestly one of the purest, silkiest, most enticingly ripe Spätburgunders I have ever tasted—and priced ridiculously well.
-Bowler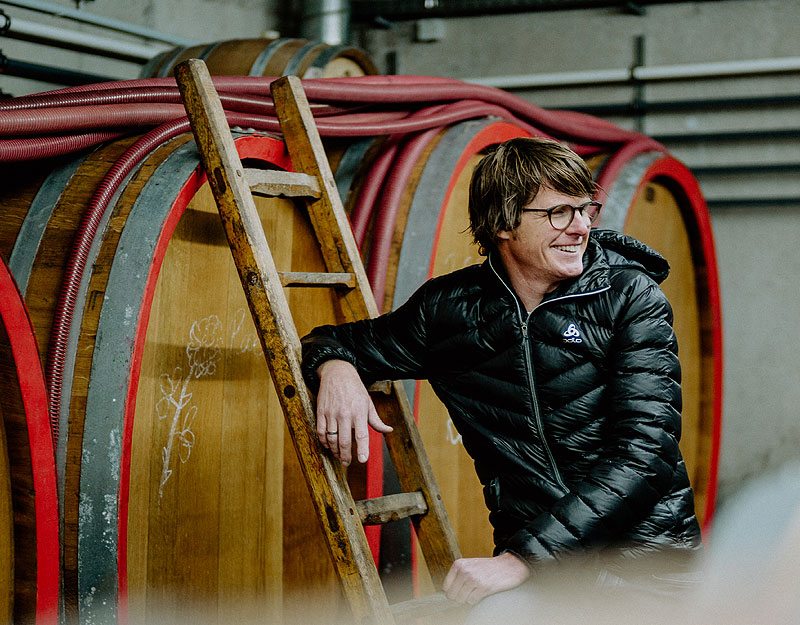 Purchase Wine