« Back
Voštinić — Klasnić is located on a small hill near Ivanić Grad, in the region of Moslavina, far away from the stress and city hustle of Zagreb, a beautiful and humble estate surrounded by vineyards and orchards. The family has been making wine since 1936 when Tomislav's great-grandfather planted the first vines of Škrlet in this area, some of which are still growing in the vineyards today and some of the oldest living Škrlet vines in existence.
Now run by Tomislav Voštinić (aka Tomba aka the Young Prince of Škrlet), the winery bears the surname of the winemaker Tomislav, as an ode to his great grandfather Klasnić from whom he inherited the vineyard, as well as his love for winemaking and the Škrlet grape. He set the stage to be Škrlet crusaders, and for the family to have an old cellar with a modern winery, that applies a perfect blend of authenticity, tradition, and modern winemaking.
All farming on the estate is strictly organic, but not certified, as Tomislav has his own issues with the certification process. He believes the benefits of organic farming are far more valuable for the health of the vineyards and the grapes, rather than the label. All fermentations are done with native yeasts, oftentimes early in the morning under cold temperatures so as to maintain the amazing aromatics that Škrlet inherently delivers.
Tomislav plans to continue planting more vines of Škrlet and to be able to continue to share their love for Škrlet with the rest of the world. While it is a lesser-known grape and was close to extinction not so long ago, it is now rapidly regaining popularity, which makes so much sense: Škrlet is fresh, extremely aromatic, and light, while maintaining great acidity.
Tomislav and his family have shattered the preconceived notions of Škrlet being a one-dimensional grape, by showing the versatility of this grape through different styles including a fuller ripeness Škrlet (Unikat), a skin contact Škrlet fermented underground (Natur) and an amazing Sparkling Škrlet (Fraktal) in extremely small quantities. One of Tomislav's grandfather's favorite styles was a 50/50 blend of the iconic grapes of the region: Škrlet and Graševina. The blend is a local favorite in the summer heat for it's refreshing drinkability.
Upon tasting these wines, you will see the same that Tomislav's ancestors saw in Škrlet —- an incredible and unique grape of the Moslavina region with amazing potential and enjoyable drinkability.
This iconic blend is bright, soft and super easy to drink. It is packed with flowery aromas, and delivers a palate of tropical fruit and peaches with some herbal notes. It is a super refreshing white wine is great for warm weather, sipping on its own but also wildly food friendly, pairing with a wide variety of foods like pasta and risottos, as well as dishes with a little spice.
-Vinum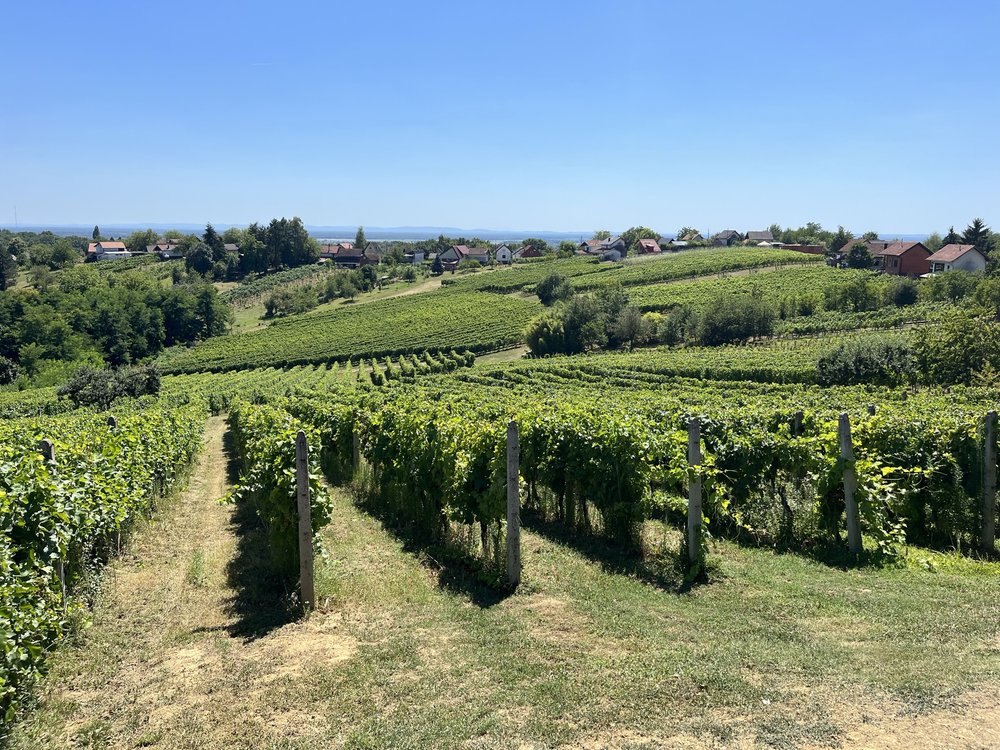 Purchase Wine