« Back
Age of Vines
Collection of ungrafted vines planted in 1900 – the 2nd oldest producing vineyard in the Mosel
Riesling Alfer Hölle 1900
80
Ulli is a true bohemian who lives in a beautiful inn on the top of a mountain overlooking the Mosel – he and his wife own the inn. While the inn doesn't really function as an inn (you can't actually book rooms there, unless you're a friend) it is always filled with people, with a random assortment of thoughtful eccentrics, famous musicians and artists, a couple just back from photographing Jewish delis in New York, a family making a month-long sojourn from Berlin down to Sicily and back. The common thread? They all love Stein wine; they all love Ulli.
Ulli specializes in the absurd and the sublime. He farms meaningful parcels of land that have a few important things in common: They are not easy to work. They are commercially unknown and therefore (most likely) barely financially viable. Finally, and most importantly: Ulli has to love them.
Stein is more than a winemaker – he is a passionate advocate for the traditional, steep, slate vineyards of the Mosel. In 2010 Ulli published a manifesto warning of the threats to the region's 2000-year-old viticultural tradition.
It's perhaps difficult to speak of an overarching "style" at Stein; or maybe it's that the word, the concept, just doesn't feel right. Winemaking with Ulli is refreshingly light on "style," on some idea projected into the vineyards, and more about what the vineyards say to him. Certainly there is a focus on wines that are dry; lightness and zip are more important than gobs of fruit. Complexity is good, but not at the expense of the whole – better to be simple and well done than overdone and, well, a mess. Cut is more important than size.
Paramount to it all: A happy vineyard, a happy customer, a good bottle of wine, and laughing.
Stein's "1900" bottling is one of the more extraordinary wines of the Mosel.
Here we have a historic site, the second oldest producing Riesling vineyard in the Mosel with just over 1,000 vines planted in the year 1900 (thus the name of the cuvée). This is a vineyard Ulli Stein tends like a garden. The wine is fermented in neutral barrel and Stein allows it to find its own balance. Thus we have in 2018 a wine with the density and heft of a Spätlese, yet with only about 20 grams residual sugar, the feel is only delicately off-dry, something like a Feinherb.
Tasting notes are hard in this case; what is truly extraordinary about this wine is simply the breadth of what it offers, which, in the simplest terms, is something like everything. Allow the wine to unfurl (decanting is a good idea, or just give the bottle a few hours to open) and it is one of the most exotic, perfumed wines of the Mosel; explosively aromatic, crushed flowers and slate, ripe, luscious, glycerin-rich stone fruits, layer after layer like a mille-feuille of apricot, quince and slate.
Yet for all this exoticism, the "1900" always, always has an uncanny sense of balance – there is a quivering and clean counterbalance to the baroque flourishes. Even in a year like 2018, the small, thick-skinned berries of the old vines, retained acidity and offer the wine not only minerals and rigor, but even a tense, green-resinous grip, something like pine needles ground up with mint.
It is wines like this that simply transcend those easy categories we use to organize the world and our experiences. Thus, words come up short.
-Vom Boden
For more information on the stunning Alfer Hölle, see this piece here, thanks to Vom Boden.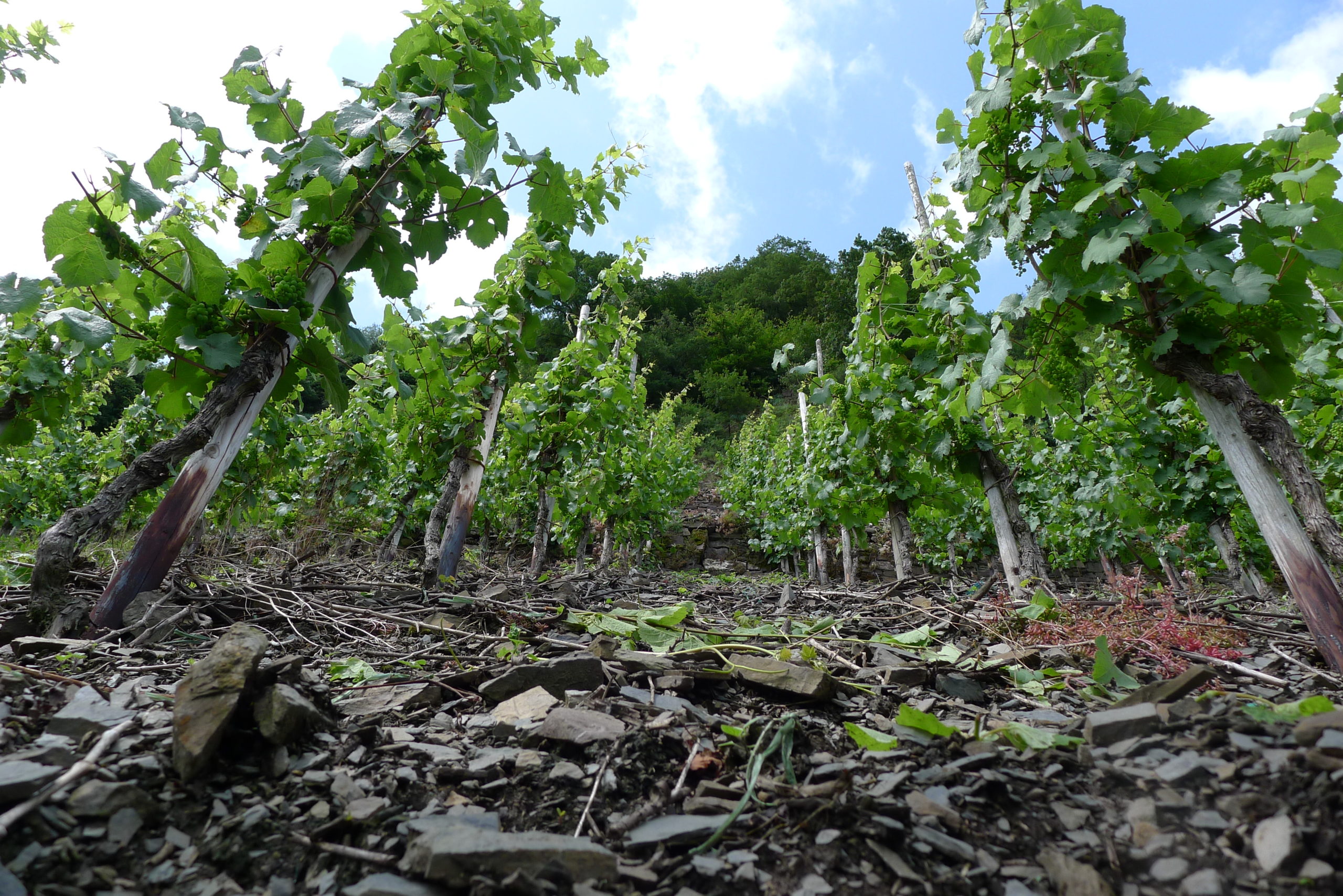 Purchase Wine