« Back
Age of Vines
10-100+ years old, with ungrafted vines in many cuvées
Riesling Fass 17 Neuenberg
62
For purists, there is nothing like the Saar. It is arguably one of the greatest, most unique wine-growing regions on earth. The core of greatness in the Saar is intensity without weight, grandiosity without size. Frank Schoonmaker put it best in his 1956 tome The Wines of Germany: "In these great and exceedingly rare wines of the Saar, there is a combination of qualities which I can perhaps best describe as indescribable – austerity coupled with delicacy and extreme finesse, an incomparable bouquet, a clean, very attractive hardness tempered by a wealth of fruit and flavor which is overwhelming."
Yes, this is the Saar and Florian Lauer is currently one of the greatest winemakers in this sacred place.
Florian's general style is exactly the opposite of his famous Saar neighbor Egon Müller. At Lauer, the focus is on dry-tasting Rieslings as opposed to the residual sugar wines of the latter. For this style, there are really only two addresses in the Saar (though more come online every year, trying to chase the style): Lauer and Hofgut Falkenstein.
Employing natural-yeast fermentations, Lauer's wines find their own balance. They tend to be more textural, deeper and more masculine. They have a preternatural sense of balance, an energy that is singular. Yet the hallmarks of the Saar are there: purity, precision, rigor, mineral.
Lauer's Neuenberg is one of the most curious, most complex wines he makes. As always with Lauer, the terroir is to blame.
Neuenberg is a tiny vineyard, located near the bottom of the Kupp mountain, toward the western part of the hill – which is to say in the direction heading away from the Saar River. Because of this location, we have a number of things going on. Similar to Unterstenberg (also a plot located toward the bottom of the Kupp hill), Neuenberg is a riper site that has (relatively speaking) a deeper soil and more water than normal. Thus it is a vigorous site. However, it is further away from the river and so the diurnal shift (the difference between night and daytime temperature) is quite extreme, preserving the wine's acidity. On top of this, the site is located at the part of the hillside where a delicate fog often settles; thus the site has one of the stronger incidences of botrytis. Florian selects out all the extreme botrytis and rot, but uses the most delicately botrytized grapes, to a certain degree depending on the vintage, to accentuate both the texture and depth of fruit, as well as the acidity. Remember: botrytis concentrates both sugars and acids.
Thus we have in Neuenberg one of Florian's most dazzling wines. It is luxurious and textural and glycerin-rich and layered. It is the Saar's response to the generosity and exoticism of a wine like Meursault Genevrieres. A good decant or a few years in the cellar can do a lot bring out the depth of this wine.
In 2020 this wine is off-dry with 16.1 g/l of RS, 8.3 g/l of acidity and 11.9% alcohol.
-VomBoden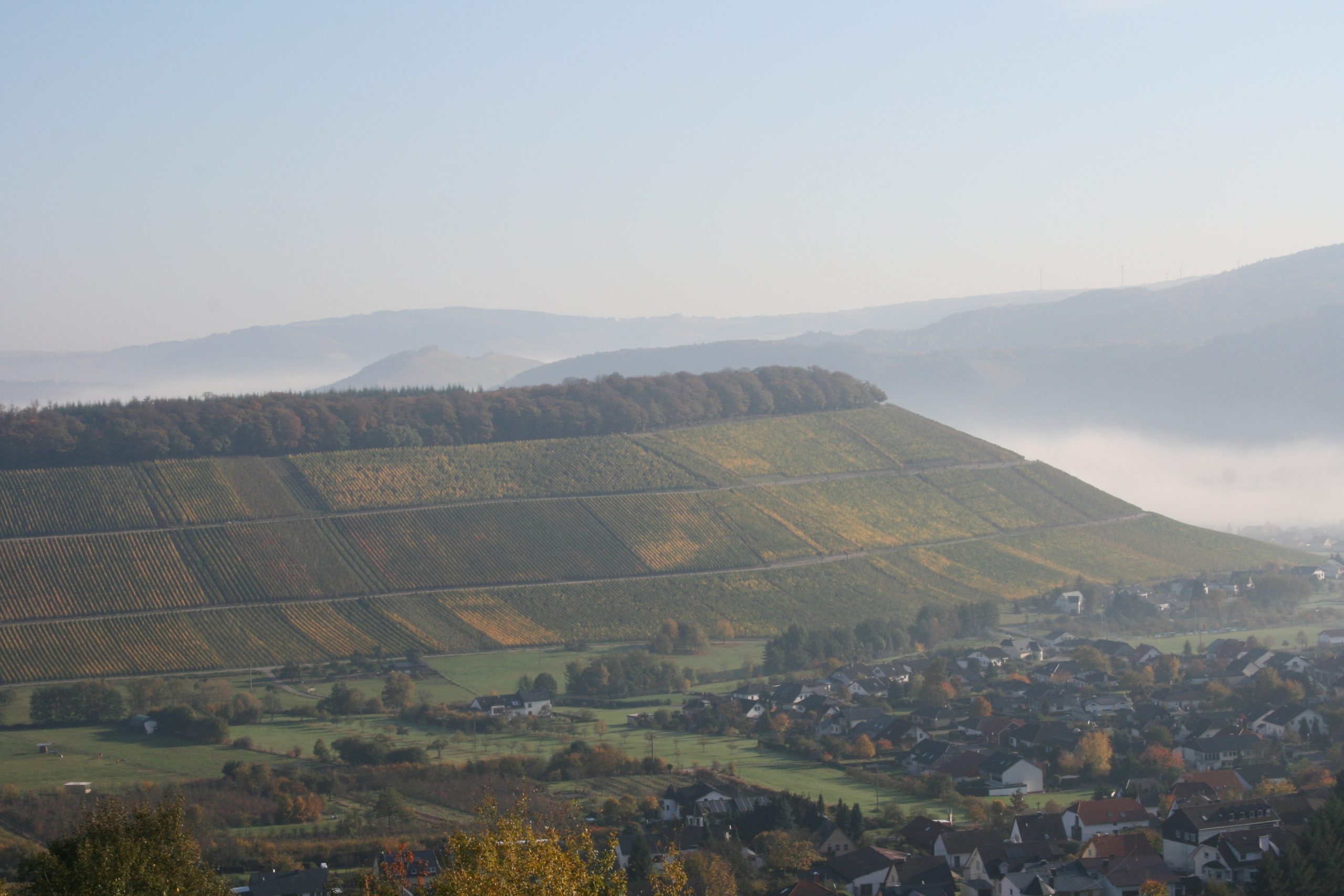 Purchase Wine