« Back
Riesling Thörnicher Kabinett
34
These are truly old-school Mosel Rieslings; in my mind these are the rustic, transparent, bracing – even a touch brutal – Mosel wines that were probably common decades ago. Yet this style has been nearly forgotten, pushed aside by the riper, fruitier, easier style of plush-and-giving Mosel wine.
To my mind, Hermann Ludes, Ulli Stein and Erich Weber are the current canonical masters of this style. The best Ludes wines also have something of the sleek tension, the force that is the calling card of Julian Haart's wines. Yet perhaps the closest comparison in our book is with the wines of Weiser-Künstler, with their faceted, crystalline and largely mineral-and-earth driven language. Obviously, all the Mosel growers in our portfolio have some relationship to this style – there is a reason we are attracted to all these wines.
Either way, Julian Ludes has been working with his uncle since 2017 and they are continuing this genre of unflinching, unapologetically structured, old school Mosel wines. Or, from another perspective, they are simply one of the few estates carrying the torch forward.
Julian and his uncle both seem to know exactly what they want to do and why. Here's an example: In vintages 2016 and 2018 they didn't like the grapes or the wines and so they decided together to just sell everything off bulk.
In total, they are farming around 11 hectares. Six hectares are flat vineyards in and around Thörnich. Before they were only producing wines this is where the animals would graze. Today, most of this fruit is sold bulk, though they may use some of the gravelly flat sites to blend into the basic "Hermann," or not, depending on the quality of the vintage. I asked him about these sites; if they believe in steep-slope viticulture (and clearly they do, see next paragraph) why not sell the flatland vineyards? Julian responded quickly: "This is our family land; we will never sell a vineyard." These vineyards also provide an easier income; in a way they help subsidize the rigor and the expenses of their steep-slope viticulture.
From the village-level Thörnich bottling on up, all the fruit is from steep slopes. Julian and his uncle own a bit more than four hectares in the Ritsch; they also have tiny holdings – a bit more than a hectare total – in the Thörnicher Enggas, Klüsserath Bruderschaft and Pölicher Held. The Ritsch, however, is the diamond in the crown – and a big diamond at that. The average vine age here is about 75 years old, many of the vines are ungrafted. Every site they own in the Ritsch is inaccessible by any machine; terraced vineyards with walls at the top and the bottom. Absolutely everything must be done by hand.
While Julian says they are nearly always the first estate to harvest in the village, he also says they are normally the last out there harvesting. Either way, yes, they are looking for healthy grapes that are ripe yet still have some green. The estate direct-presses nearly everything; while they have a pneumatic press, they do not rotate it, so it functions a bit more like a basket press. The press cycles are very low-pressure and very long. Each parcel is fermented separately and naturally. Since the early 1990s the estate has used only stainless steel; since 2000 they have used only screw caps.
As for the screw caps, the estate had problems in the 1980s with cork and the uncle came across screw caps in the later 1990s. By the vintage 2000, he had made the decision to switch. At the time – over 20 years ago – no one used screw caps in the Mosel. They all called him crazy, the same way they did when he began training all the vines all those years ago.
Now, of course, screw caps are common. I've tasted the 2000 Kabinett Trocken (bottled under screw cap); 21 years later it is superb. I'm not the biggest fan of screw caps, but I can't deny the wine's beauty.
As with many of our producers, the true passion here is the Kabinett – whether it is dry or off-dry or fully fruity. "The Kabinett is the greatest style on earth," says Julian to me offhandedly, as if acknowledging something as irrefutable as the time of day or the color of my shirt. The estate rarely does Auslesen; they avoid BAs, TBAs or Eiswein. "These are wines for points, not drinking," says Julian.
What they seek, no matter the exact ripeness or level of residual sugar, is a wine that crackles with tension, that has rigor and structure. If the wines are too bracing, too brisk to be exactly legible – or even perhaps friendly! – in youth, they simply require two things that seem to be rarer and rarer every year, despite all our brilliant technologies and automated efficiencies: time and patience.
For that reason alone, these wines are so important. But for the acid-head, for the most extreme lover of the Mosel and its salty, slatey, cold-as-a-mountain-stream mineral core, these wines will be a delicious, singular, revelation.
Perhaps they will be the Mosel you were looking for.
The Thörnicher is the "village-level" bottling; it is always sourced from choice parcels in the Thörnicher Ritsch and Enggass. In between off dry and fully Kabinett level with 35g of residual sugar and 10.7g of acid.
-Vom Boden
The 2021er Thörnicher Riesling Kabinett was made from fruit picked at 80° Oechsle mostly in the Thörnicher Ritsch and was fermented down to barely fruit-styled levels of residual sugar (35 g/l). This bright-white-hay-colored wine offers a beautiful nose made of passion fruit, grapefruit, mint, flowers, a hint of whipped cream, and still quite some residual scents from its spontaneous fermentation. It is nicely juicy and focused on the feather-light palate and leaves a stunning and beautifully vibrating feel of minty herbs, whipped cream, passion fruit, and green apple in the slender finish. The aftertaste vibrates to the tune of ripe but zingy acidity.
-Mosel Fine Wines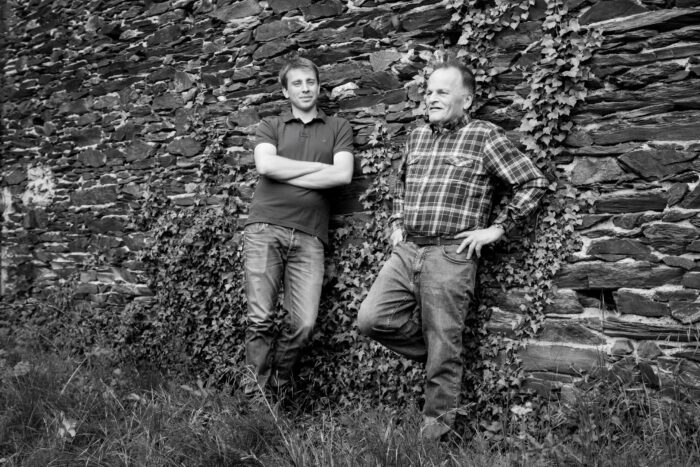 Purchase Wine