« Back
Grape
70% Frappato, 30% Nero d'Avola
Soil
Medium density, red sands and chalk from sub-apennine limestone rocks
Average Vine Age
15 years
Natural wine is human wine, says Arianna Occhipinti. It has a birthplace, a story, an identity, and deserves respect.
Arianna had the good fortune of growing up with an intimate experience with natural winemaking- her uncle is Giusto Occhipinti, of Azienda Agricola COS. She worked with Giusto at age 16, falling in love with winemaking enough to head to oenology school, where, while learning technical skills, she became convinced that natural winemaking was her calling. Giusto had surrounded her with hand harvested, native yeast fermentation, minimal intervention winemaking- things that were not commonplace in large scale winemaking in Italy, and not what she was learning in school.
She began with just 1 ha of abandoned vines, and now tends 25 ha of certified organic, and practicing biodynamic, vines in Sicily. She works exclusively with native Sicilian varietals: frappato, nero d'avola, albanello, and zibibbo. These are emphatically terroir-driven wines.
Arianna's view of natural winemaking really gets to the core of what attracts us to these inspiring and hardworking individuals- she wants to make good wine that reflects where she comes from. Arianna says it best herself: "Mine is certainly a natural wine, but even before that it is a local wine. Born from the constant love of those who made it. Born from respect for the land and the vineyard. From a respected soil a respectful wine is born: respectful of its uniqueness and of those who will drink it because it is a healthy, sincere wine that does not hurt. But also a good wine. Born from the constant love of its producer."
70% Frappato/30% Nero d'Avola. The two varietals are native to Sicily and are grown on red sand soils over limestone rock, with vines averaging 15 years old on four different sites. The vines are organically farmed and hand-harvested. The fruit is mainly destemmed (4% stem inclusion in the upcoming 2017 vintage) and co-fermented with native yeasts in concrete tanks and with a two-week skin maceration. The wine is aged in concrete tank for 8 months and bottled unfiltered. The wine is named "SP68" for the road near Arianna's home vineyard in Vittoria.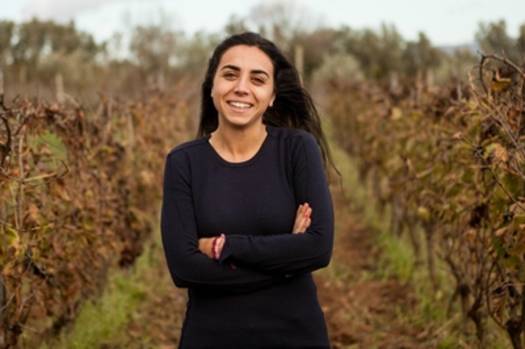 Purchase Wine