« Back
Here's the hypothesis we'll set out to prove: Jochen Beurer may be one of the most important winemakers in Germany.
His wines are pure energy; they have a universal vibration to them. They seemingly do not follow the laws of physics that govern the rest of the conventional wine world. They float.
Among winemakers in Germany, Beurer is revered and his whites and reds are nearly always considered among the greats. Few winemakers are able to achieve such thrust and such purity, from the simpler Trollinger and Portugieser up to Grauburgunder, Sauvignon Blanc and, yes, Riesling.
Yet Beurer's influence flows not only through his wines, but through his actions. Jochen is one of the deepest thinkers about the environment beyond the vineyards. A tour with Beurer is as likely to include a discussion of his bees, the vegetation and animals surrounding the vineyards as it is to include a discussion of the soil and vines themselves.
I have met few winemakers who seem to see the "whole" as clearly and succinctly as Beurer does. Jochen farms both organic and biodynamic (he is Demeter certified), yet still he does not speak in easy truths; he seems to be seeking a viticulture that is beyond these simple rules, more integrated, more complete.
Jochen is also one of the kindest humans out there; a bear of a man who is profoundly nurturing. A whole generation of young German winemakers has passed through Beurer's cellar. We're getting to the heart of why Beurer is so important to German winemaking.
Nonetheless, it's not shocking that Beurer is less well known in the U.S. First, he's from Swabia, a southern region only recently created by the importer Selection Massale. Swabia is not part of the old-school, cannonical history of winemaking in Germany. It is a fertile place, with a diverse array of agriculture. Which brings us to the second reason that Beurer is not as famous as he should be: he does not focus solely on Riesling, but embraces the wild and complicated diversity of Teutonic grapes and wines.
There is something very special about this damn wine and if it were easy to translate into words, well, I'd just write that one line and be done with it. Though this is definitely a red wine, Jochen himself always says, "…this isn't red wine or white wine, it's Trollinger." Which is to say this is a singular wine: bright and brambly, with vivid crunchy red fruits, a myriad of dried spices and a fine, bouyant minerality. Beurer's wines always have a sort of energy to them. It's like they don't follow the normal rules of physics; these damn wines levitate. This is especially true of this wine.
Although in Swabia the most commonly planted grape is in fact not Riesling but Trollinger, Beurer's version remains one of the few Trollinger-only bottlings. Which is to say, most of the Trollinger in Swabia is just blended away into nondescript red wines. Beurer's Trollinger, however, comes from a serious plot: about 1.2 hectares of Trollinger vines up to and beyond 50 years old. This wine deserves to be bottled on it's own.
If you know this grape at all, you probably know it by it's other name Schiava and associate it with northern Italy. But of course all these countries, these man-made constructs, came long after the vines had found their happy places. And Trollinger is very happy here. Germany is in fact a country that excels at red wines that taste not unlike the most delicate of northern Italy; we could call this area of Germany "Alto Swabia." Germany is, in general, a cool-climate country, and so the reds here are vivid, dancing, transparent, aromatic and acid-driven.
Simply put: one of the brightest, most joyful and soulful reds we sell.
-Vom Boden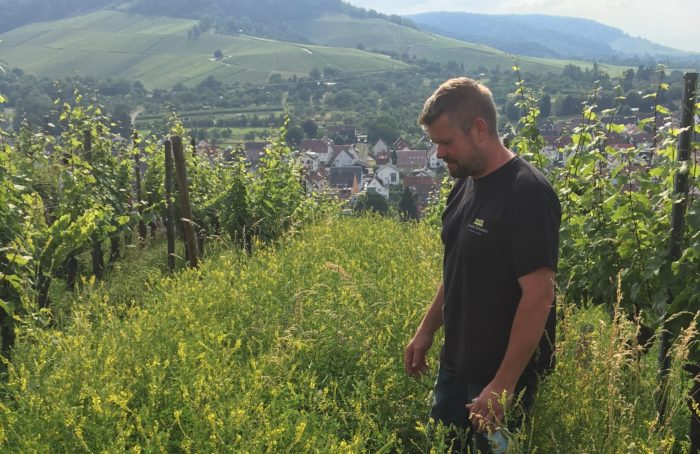 Purchase Wine