« Back
In a region famous (infamous?) for broad, masculine, gooey and textural wines, Barbara Öhlzelt is content to quietly flip the paradigm completely on its head.
She farms only around seven hectares in Austria's Kamptal, quietly making some of the most precise, angelic, energetic wines in the region.
The Kamptal is a curious place; it seems to have been dominated (defined?) by the big boys of the region. These plush Kamptal wines aren't exactly hard to find, and their general girth has created the distinct impression that the famous loess soils of the region necessarily result in big, broad, glycerin-heavy wines.
Barbara's style is the polar opposite. While the wines are angular and dancing, they don't shout… and neither does Barbara.
Along with growers like Jurtschitsch, Barbara is redefining what the Kamptal can be. She champions the lesser-known sites; she eschews textures and winemaking extremes in favor of linear focus and quiet, simmering intensity.
This is the Kamptal as fine, clearly delineated and precisely-etched. Blind-tasting, more than one person wondered, could the Grüners possibly be Rieslings? They have that much tension. Compared to the masculine Kamptal, Barbara's wines show just as much depth and persistence, yet on a lighter, more refreshing frame. Barbara is the Weiser-Künstler of the Kamptal, translated from slate to the the dialect of the Kamptal – loess, granite and sandstone. The wines are loaded with mouth-watering acidity and the alcohol levels are carefully restrained.
Barbara is soft-spoken but intense, strongly opinionated, deeply passionate, playful and caring. Yes, she has great parcels in the Heiligenstein, Kamptal's most historic and justly famous site (it's a mix of various types of ancient primary and volcanic rock and often described as a geologic wonder), but ask her what her favorite site is and she'll tell you it's the Kogelberg, where her 65-year-old Riesling vines are a marvel. She won't badmouth her fellow growers, but it's also not lost on anyone that she is trying to do something very, very different.
The Öhlzelt lineup offers a beautiful cross-section of her production. The liter Grüner needs no introduction; it is serious well beyond the regular limitations of the milky Grüners that crowd (and slowly destroy) the category. The Grüner from a beautiful domestic vineyard surround the cellar (the "Kellerweingarten") is a further step, in terms of dimension and depth.
The village wines with the dancing angels (her village is called Zöbing, thus the wines are "Zöbingers") are all raised in Acacia wood. They are multi-site, village-level blends, but from better parcels and older vines than the Kellerweingarten.
Finally, the single vineyard wines from Seeberg, Heiligenstein and Kogelberg. These are where the real magic happens. Shimmering beauty, graceful minerality and so, so much fine delicacy.
The Zöbingers are Barbara's village-level wines, sourced from younger vines in vineyards scattered around her hometown of Zöbing. Both wines (Riesling and Grüner) have more texture and density than the liter, as you'd expect. Both, however, have an elegance, a seamlessness and energetic mineral core to them. They have lift; they are salty and refreshing and you will want to drink a lot. This push-pull of depth and levity, this you would not expect.
-Vom Boden
vineyard work: Most work is done by hand as the majority of Öhlzelt's vineyards cannot be accessed by machines. No
herbicides or chemicals are used on the soil, ever. In most vintages Barbara follows general organic farming principles. However,
when the harvest is compromised (in 2016 there were torrential rains leading to peronospera and botrytis), topical and/or systemic
treatments are used. Note they are limited to application on leaves only.
vinification: Grapes are harvested and transferred to small boxes, all very early in the morning so temperatures never
get too high. There can be as many as five passes in the vineyard to pick, from the start of the vintage picking for verjus to the last
pick for the single vineyard wines. Single vineyard wines stay in barrel longer on the lees. Stainless steel and acacia wood barrels are
used for ageing, depending on the wine.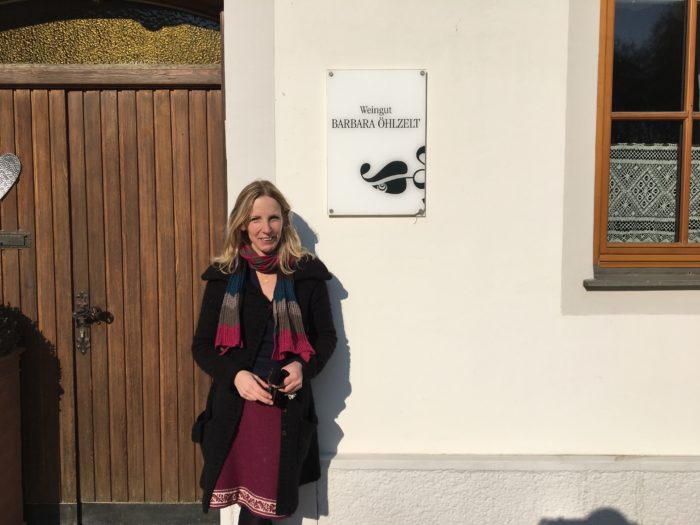 Purchase Wine